Home  Submissions  Registration   Venue  Accommodation
Queen Mary University of London, July 22-26 2017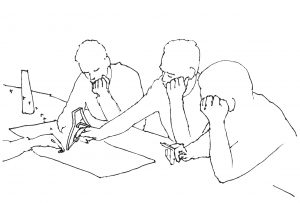 Image: Claude Heath
We invite you to attend the 7th bi-annual Joint Action Meeting (JAM) which brings together cognitive scientists and researchers from related disciplines studying individuals' ability to act together.
Human life is full of joint actions, ranging from a handshake to the performance of a symphony. We are highly skilled at coordinating our actions with those of others to reach common goals, and rely on this ability throughout our daily lives. What are the cognitive and neural processes underlying this ability? How does joint action develop? How do language and gesture support and emerge from joint action? What are the basic principles needed to build robotic systems that can interact with humans? What might differentiate joint action from individual action, both conceptually and in terms of experience? The scientific program will comprise oral presentations and posters addressing these and related questions. Contributions will present the latest research and thinking on a range of different topics, including language as a form of joint action, the interplay of perception and action in joint action, and the phylogenetic, ontogenetic, and cultural foundations of joint action.
SUBMISSIONS
We invite submissions for talks (about 20 minutes) or posters on joint action. Please e-mail an abstract with the subject "JAM submission" to JAM7in2017@gmail.com. The abstract should be no longer than 200 words. The email should contain your name, affiliation, and contact address. Please indicate whether you prefer a talk or a poster. Deadline for submission is March 1 2017.
The abstract title should clearly define the work discussed. Abstracts reporting empirical studies must contain the specific goals of the study, the methods used, a summary of the results, and a conclusion. For theoretical work, the abstract should contain the specific goals and clear conclusions. Please note that although we do encourage submissions from a broad range of topics and perspectives, we will only be able to accept contributions that directly inform our understanding of joint action. We will do our best to accommodate your preference for talk/poster, but given the tight schedule we cannot guarantee that we will be able to accommodate your preference. 
REGISTRATION
If you would like to attend JAM 7 without presenting a talk or poster, please send an e-mail with the subject "JAM Registration" to JAM7in2017@gmail.com. The email should contain your name, affiliation, and contact address. Note that first authors on accepted submissions are automatically registered.
All participants are asked to contribute a registration fee to the meeting. The registration fee is £50 for students (including PhD students) and £100 for all other participants.
The registration system can be accessed here: http://eshop.qmul.ac.uk/conferences-and-events/conferences-events/conferences-events/7th-joint-action-meeting
VENUE
JAM 7  will be held at ArtsTwo Building in Queen Mary University of London Mile end campus.
There is a general campus map with further locations listed here
Nearest stations on the London Underground are:
Mile End on Hammersmith and City, District and Central lines
Stepney Green on Hammersmith and City and District lines
Transport for London publish interactive maps showing Underground, Docklands Light Railway (DLR) and bus information.
 Arriving from the airport:
London City Airport serves the UK, Europe and the USA and is the closest to Queen Mary University of London.
ACCOMMODATION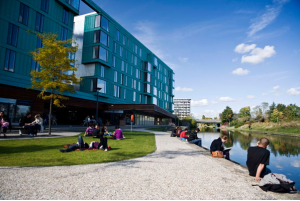 1. Accommodation in Mile end campus student village
Queen Mary University of London, Westfield Way, London, E1 4QA
Single ensuite rooms: £57/night on a Bed & Breakfast basis.
For bookings from 22nd to 25th of July, use promotional code JAM2017.
Make a booking at: https://book.qmaccommodation.co.uk/
 2. Royal Foundation of St Katharines Accommodation Centre
The Royal Foundation of St Katharine, 2 Butcher Row, London E14 8DS (Walking distance)
 Single ensuite rooms: £80/night on a Bed & Breakfast basis.
Use promotional code QMUL_AGREED1 in the offer code box to get a discount.
Make a booking at: http://www.rfsk.org.uk/
*Please note that there is a limited number of rooms available
Other local hotels:
 The prices quoted are given as a guide and may vary according to availability, peak season and weekday/weekend rates. Check prices before booking. The travel information is based on transport routes from the Mile End Campus.
LOCAL HOTELS
 RATES
Express by Holiday Inn – Limehouse*
469-475 The Highway
London E1W 3HN
Tel: +44 (0)20 7791 3854
www.exhi-limehouse.co.uk
(Walking distance)
Twin/Double Room: £104.00
Incl. VAT & Breakfast
Express by Holiday Inn – Stratford*
96 High Street
London E15 2NE
Tel: +44 (0)870 2405708
www.hiexpressstratford.co.uk
(Bus route – 25)
Twin/Double room: £76.00
Incl. VAT & Breakfast
Forest View Hotel
227 Romford Road
Forest Gate E7 9HL
Tel: +44 (0)20 8534 4844
www.forestviewhotel.co.uk
(Bus route 25)
Single Room: £48.00 – £58.00
Double Room: £58.00 – £68.00
Triple Room: £88.00
Family Room: £98.00
Incl. VAT & Breakfast
Grove Hill Hotel
38 Grove Hill
South Woodford
London E18 2JG
Tel: +44 (0)844 472 1800
www.grovehillhotel.com
(Central line tube – South Woodford)
Single Room with washbasin: £33.00
Single En-Suite Room: £45.00
Twin/Double Room: £55.00
Family Room (3 people): £69.00
Incl. VAT & Full English Breakfast, Sky TV*Special rates for students, ring for details.*
Holiday Inn Stratford City*
10a Chesnut Plaza
London E20 1GL
Tel: +44 (0)20 3301 4040www.hilondonstratford.co.uk

(Central line tube – Stratford, Bus Route – 25)

Double Room from £80.00
Incl. VAT, Breakfast £10.00 extra
Holiday Inn London Commercial Road*
5 Cavell Street
London E1 2BP
Tel: +44 (0)871 942 9299www.hilondoncommercialroadhotel.co.uk
(District or Hammersmith and City Line – Whitechapel)
Twin / Double Room from £105.00
Incl. VAT, Breakfast
Ibis Docklands*
1 Baffin Way, off Preston Road
London, E14 9PE
Tel: +44 (0)20 7517 1100
www.ibishotel.com
(Bus route – D6)
Double Room (Fri-Sun) From £89.00
Incl. VAT, Breakfast £8.50 extra
Ibis – Stratford*
1A Romford Road
London E15 4LJ
Tel: +44 (0)20 8536 3700
www.ibishotel.com
(Central line tube – Stratford, Bus Route – 25)
Double Room from £89.00
Incl. VAT, Breakfast £8.50 extra
Ibis Budget – Whitechapel*
100 Whitechapel Road
London E1 1LG
Tel: +44 (0)20 7655 4620
www.ibishotel.com
(District or Hammersmith and City Line – Whitechapel)
Single Room from £56.00
Double Room from £72.00
Incl. VAT, Breakfast £8.50 extra
Premier Inn – Stratford*
9 International Square
London E15 1AZ
Tel: +44 (0)871 527 9286
www.premierinn.com
(Central Line – Stratford)
Single Room £59.00
Double Room £70.00
Room only, Incl. VAT
Sunningdale Hotel
35 Lonsdale Road
Wanstead E11 2PH
Tel: +44 (0)20 8989 3435
(Central line tube – Wanstead or  Snaresbrook
Single Room from £26.00
Double Room from £35.00
Room only
*Has disabled facilities*
Travelodge – Aldgate
6-13 Chamber Street
London E1 8BL
Tel: +44 (0)871 984 6406
Website: www.travelodge.co.uk
(District Line – Aldgate East)
Rooms from £70.00
Incl. VAT, breakfast £6.65 extra
Travelodge – Bethnal Green*
231-237 Cambridge Heath Road
London E2 0EL
Tel: +44 (0)871 984 6461
www.travelodge.co.uk
(Central Line – Bethnal Green)
Rooms from £51
Incl. VAT, breakfast £6.65 extra
Travelodge – Docklands
Coriander Avenue
London E14 2AA
Tel: +44 (0)20 7531 9705
www.travelodge.co.uk
(Bus route – D6 & Docklands Light  Railway)
Double Room from £54.00
Incl. VAT, breakfast £6.65 extra
Travelodge – Stratford*
High Street
London E15 2JG
Tel: +44 (0)87 1984 6502
www.travelodge.co.uk
(Central Line – Stratford)
Rooms from £49.95
Incl. VAT, breakfast £6.65 extra
The Westbridge
335-337 High Street
London E15 2TF
Tel: +44 (0)20 3327 4969
www.thewestbridge.com
(Central Line – Stratford)
Double or Twin Room from £90.00
Room only, Incl. VAT
The Whitechapel*
49-53 New Road
London E1 1HH
Tel: +44 (0)20 7247 9947
www.thewhitechapelhotel.com
(District Line – Whitechapel)
Rooms from £64.00
Room only. Incl. VAT
 Other sources
http://www.hoteldirect.co.uk/
http://www.london-discount-hotel.com/
http://www.easybedandbreakfasts.co.uk
http://www.cheaperthanhotels.co.uk
http://www.tripadvisor.co.uk/